Sun Hydraulics Upgrades the Already Powerful Manifold Design Tool QuickDesign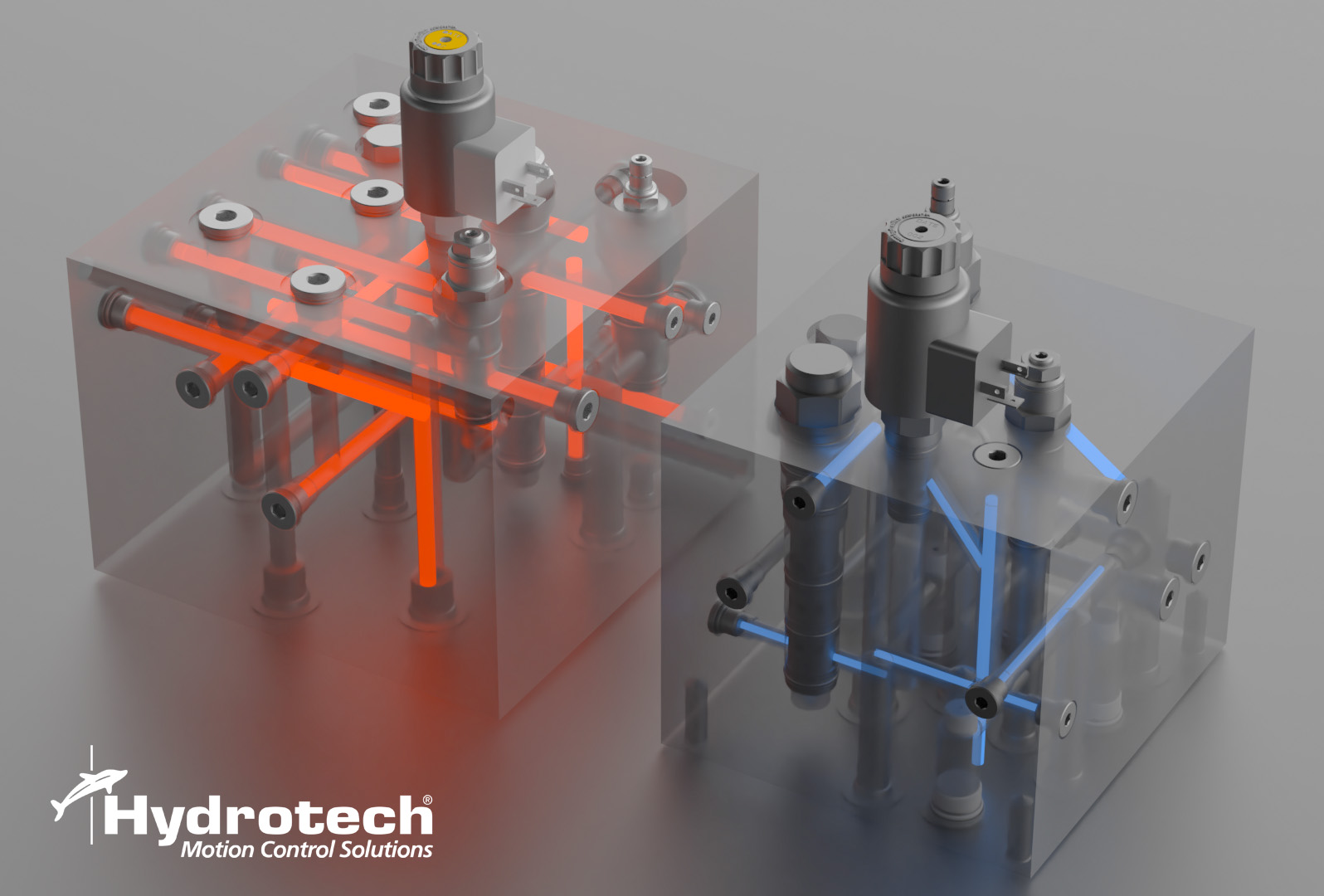 Not every manifold design requires 5-axis technology, but if you could reduce the manifold size and weight, reduce the number of potential leak points and create a more efficient design with improved flow paths, why wouldn't you? The latest release from Sun Hydraulics' web-based QuickDesign manifold design program with SmartConnect™ will do all that and a lot more.
The upgrades now allow for:
5-axis capability
XMD integration
Schematic replication
And more!
WATCH: Sun Hydraulics upgrades QuickDesign, their intuitive online manifold design tool
Now you can create 3-, 4- or 5-axis designs
With this latest enhancement, users can select between 3-, 4- or 5-axis options when submitting a design, and QuickDesign will do all the heavy lifting, processing your schematic and design requirements and producing the most efficient design output possible. By using the SmartConnect drag-and-drop schematic tool and taking full advantage of 5-axis capabilities in QuickDesign, you can create new, more efficient designs quickly and easily. You can potentially reduce the number of construction ports and potential leak points. You can improve flow paths with angled drillings, reducing energy loss and improving your energy savings. And you can fit it all in a smaller package.
Add Sun Hydraulic's new coil-mounted XMD driver to your next product
If you're interested in adding one of the most innovative new products to recently be release - the industry's smallest, most powerful coil driver - the XMD from Sun Hydraulics - to your next project, you can now configure the XMD driver as part of your design right in QuickDesign. Just select the electro-proportional valve you'd like to drive, and under the coil options available, choose the XMD-01 or -02 option with the appropriate coil. This will include the coil-mounted XMD in your package. It's that easy. And if you would like the XMD mounted directly to your manifold, just contact our Sun Hydraulic's product team to help finalize your manifold design.
Easy project update capability in QuickDesign
Another new feature in the new QuickDesign tool is the ability to change features on the package quickly that don't affect the geometry of the manifold. Now you don't have to resubmit your design to the QuickDesign engine if you make the following changes:
Valve configurations
Manifold coatings
Manifold materials
Manifold stampings
The "Update Project" function is located in "Project Options" on the Documents page. See "Project Options" on Sun's Help page for more information.
Schematic copy tool creates a new project from an existing design
Have you ever wanted to start a new design based on an existing design without altering your original masterpiece? Now you can easily start a new copy of an existing project. No need to start over. And no need to paint over your original masterpiece.
The "Copy Schematic" tool is located under the "Project Options" on the Documents page of your new project.
Clean up your projects list by archiving older projects
Now that you have the ability to make copies of existing projects to create separate versions, you're also going to need a way to keep all this organized. We've added an archive function that allows you to store older projects for easy access so you can keep your current projects list focused on active projects. For more information on this feature, see "Project Management and Security" on Sun's Help page.
Sun's QuickDesign Power Users are BIG Fans
First launched by Sun in 2009, QuickDesign gained a base of loyal users from the beginning. Don't just take our word for it, here are a few testimonials:
Testimonial 1:
"I've been using QuickDesign for many years. When SmartConnect was added, it really changed the user experience. Now it doesn't take a lot of time to draw a complex circuit, and it's very easy to align symbols and lines to make it look good. If you submit to QuickDesign before lunch, you can be sure to have all your drawings and documentation ready when you get back. Now I'm excited about the upgrade with 5-axis capability."
Testimonial 2:
"This program has changed the way we do our manifold business with both existing and new customers. We can now sit together with our customers and load a design with the customer's active input on required construction parameters. Once submitted to QuickDesign, the finished drawings and design are generally available in minutes. Herein lies the power of this program."
Testimonial 3:
"Although I consider myself a very skilled and innovative hydraulic circuit and system designer, I am not a CAD designer. I used to do all of my schematics and design by hand until QuickDesign with SmartConnect. Now, using this powerful web-based tool, I simply enter some basic data, point and click, drag and drop, and I can easily and quickly create professional hydraulic schematics with bill of materials. It is the most powerful tool I have used in my 30+ years in fluid power. And I use it every day."
New to QuickDesign? It's easy for you to get started.
If you haven't already done so, register as a QuickDesign user. Then start designing. It's that easy.
Need more help? There are plenty of helpful videos and documents in QuickDesign. Check them out here - Using QuickDesign.
QuickDesign with SmartConnect is now your fastest path to a 5-axis design and it's the shortest distance from concept to solution.
Hydrotech is an authorized supplier for Sun Hydraulic's products and solutions. Contact one of our product specialists today to get started!