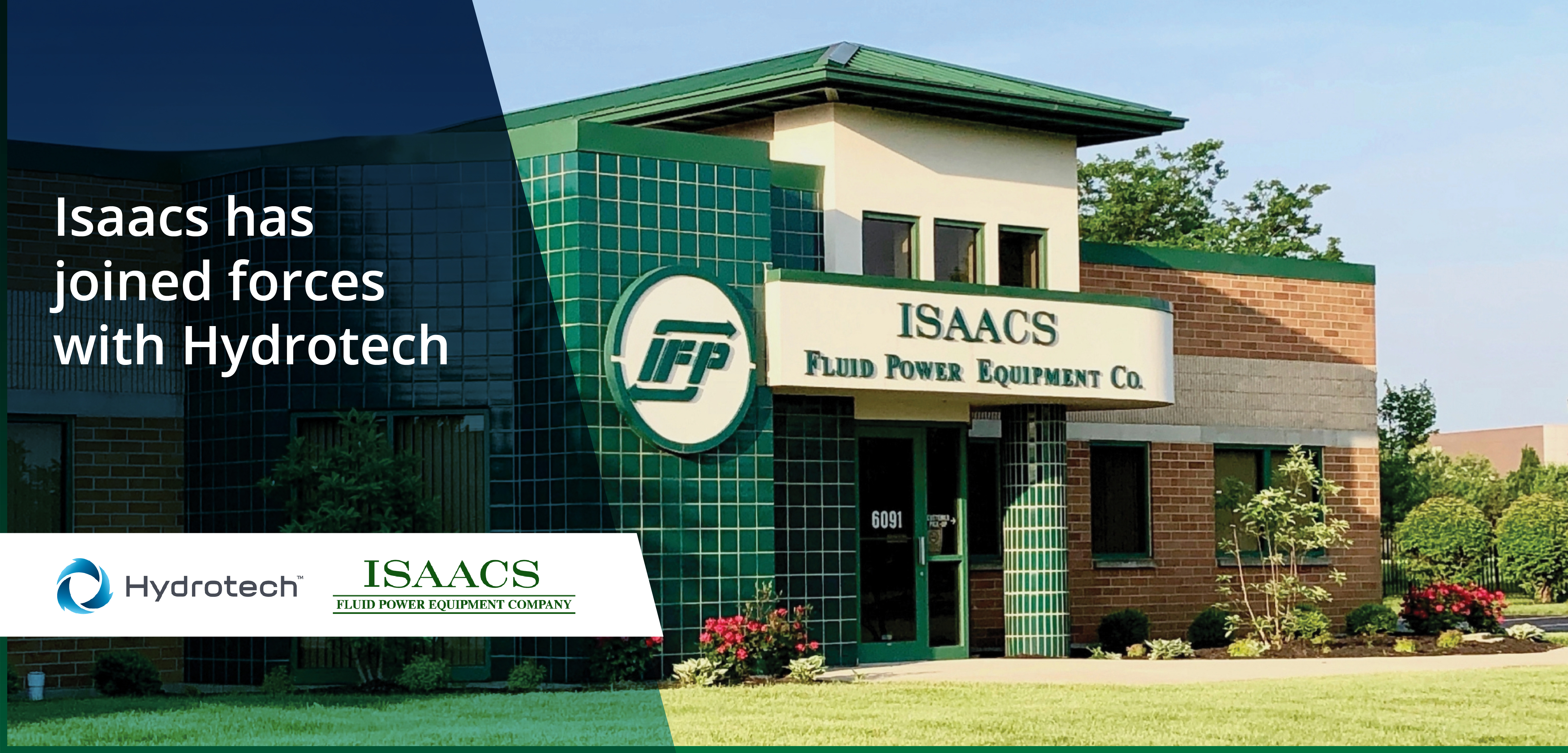 CINCINNATI, OHIO May 1, 2023 – Hydrotech, Inc. today announced the acquisition of Isaacs Fluid Power Equipment Company (Isaacs)—representing progress toward the company's mission to modernize industrial equipment and streamline operations through application know-how, technical expertise and reliable service.

Based in Mason, Ohio, and founded in 1948, Isaacs is a fluid power distributor serving multiple OEM and end-user industries across Ohio, Indiana, Kentucky and portions of lower Michigan and Illinois. By acquiring Isaacs, Hydrotech expands its capabilities and geographical reach to create a new alliance in Midwest fluid power solutions. Isaacs will operate as a division of Hydrotech, which is part of the FSC group of companies, following the completion of this acquisition.

Isaacs has 37 employees, including key members of the leadership team, General Manager Bruce Becknell and Finance Manager Beverley Massey, who will continue in their roles. After over 50 years with Isaacs, President and CEO Roy Carman will officially retire on the date of closing. All six Isaacs office and branch locations will remain open. Specific terms of the deal will not be disclosed.

"Isaacs Fluid Power Equipment Company is a perfect fit with Hydrotech," said John Campbell, President of Hydrotech. "With our overall combined expertise, we will strengthen the value-added distribution proposition that has made our individual companies trusted and reliable partners across a diverse range of industries. Isaacs and Hydrotech share the same cultural values, making this acquisition a win-win for our teams."

Hydrotech benefits from Isaacs' in-depth pneumatic and vacuum technical engineering, service and application knowledge while Isaacs gains access to Hydrotech's strong complete engineered solutions, quality replacement parts and excellent customer support along with the resources of a larger company.

"Both companies have established a solid foundation while offering unique areas of specialty and experience," said Campbell. "Working together, our customers across the Midwest will benefit from a dynamic fluid power partner that leverages our collective engineering and product knowledge. Under one umbrella, we will be able to take our service capabilities to the next level for our customers."

To learn more about the Hydrotech acquisition of Isaacs, or if you have any additional questions, contact Hydrotech at (513) 881-7000 or via email at info@hydrotech.com.

About Isaacs Fluid Power Equipment Company
Isaacs Fluid Power Equipment Company specializes in pneumatic and vacuum products including control valves, cylinders, linear and rotary actuators, air motors, air compressors, vacuum pumps and systems, compressed air filters and dryers, pressure regulators, lubricators, precision pressure control, pneumatic logic, fittings, tubing, and connectors. Learn more at isaacsfluidpower.com.

About Hydrotech, Inc.
For over 50 years, Hydrotech, Inc. has been recognized as a leader in the fluid power industry by setting the standard in quality products, sourcing the world's leading hydraulics and automation products and services while delivering high-level support for systems of any scale. With locations in Cincinnati and North Canton areas, Hydrotech serves a wide range of industries including aerospace, agriculture, automotive, construction, defense, forestry, food production, medical, oil and gas, pulp and paper, textile, rubber and transportation. For more information, visit hydrotech.com.