Hydrotech Partners with Sheffer Corporation To Bring The Latest Industrial Cylinders To Market



Hydrotech, Inc. adds to our world-class line of products by partnering with Cincinnati, OH based Sheffer Corporation to bring the latest cylinder technology to market. We are excited to be an Authorized Distributor & Supplier of Sheffer Cylinders.


Sheffer Corporation's Product Offering Overview:


Pneumatic Cylinders
Hydraulic Cylinders
Electronic Positioning Cylinders
Custom Cylinders
Accessories
Competitive Replacements
Pneumatic Cylinders - Built to perform.


Sheffer's pneumatic actuators and cylinder series covers a wide range of applications from custom tie-rod cylinders to NFPA cylinders. With bores ranging from 3/4″ thru 14″ as catalog standards and larger as custom, with pressure ratings up to 250 PSI, these reliable, long-lasting cylinders bring Sheffer performance anywhere you require linear pneumatic actuators.
Hydraulic Cylinders - Built to last.

With quality, reliability and the ability to handle ultra-high pressure, Sheffer hydraulic cylinders bring numerous advantages to every application, from custom tie-rod cylinders and hydraulic actuators to NFPA cylinders.
Electronic Positioning Cylinders - Built for variety.
Sheffer manufactures all types of cylinders to meet customers' needs, including cylinders with electronic "position feedback" devices. These devices are required for many control circuits or monitoring systems. We routinely modify our cylinders to accept various devices.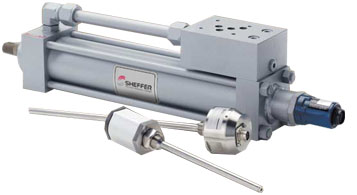 Rod sizes – 1-3/8″ and above
Rating – to 3,000 PSI
Mountings – all standard cataloged, clevis with special housing
Internal position sensing, using probe of your specification
Available on hydraulic and pneumatic cylinders
Manifold mounting and piping available
Special heads for direct valve mounting
Quick delivery up to 48″ stroke
Custom Cylinders - Built by design.
There's no substitute for experience when building specialty cylinders – and that we have in spades. There's little we haven't seen, and even less we can't produce. From the very beginning, special orders and custom solutions have been a strong point at Sheffer, products of our spirit of innovation. Every day, we manufacture specialty cylinders that other companies can't make or are reluctant to try.
Sheffer Offers Intuitive Cylinder Configurator For Easy Design
The Sheffer Cylinder Configurator was designed specifically to help you easily select the ideal cylinder or actuator for your application. You only need to enter your specifications and performance parameters for your particular project, then simply view and download your drawing or model in your own CAD format.
Click here to configure your cylinder today!
About Sheffer Corporation:
Superior quality
At Sheffer, we want to ensure that you fully understand what the Sheffer advantage is, and more importantly, what it means for you. Since 1952, we've been making cylinders and only cylinders – our ongoing innovations, longstanding experience in the field and constant eye on excellence ensure that you always get the very best cylinder the industry has to offer.
We put you – the end-user – first, fully understanding the critical role our cylinders play in the success of your daily operations. So you can count on our complete line of custom cylinders, pneumatic cylinders, hydraulic cylinders and electronic positioning cylinders to perform exactly as you expect them to – and oftentimes better, in terms of reliability, quality, durability and overall superior performance.
Lasting performance

The key to the Sheffer advantage is the cylinder itself. We believe that product performance is the best measure of just how good a cylinder is – our hydraulic and pneumatic cylinders are proven to decrease downtime, minimize waste and maximize profits better than any cylinder on the market today.
Longer lifetime of service
Minimal downtime
Lower operating costs
Industry's longest warranty
Fast and easy installation with the most options
Simple, affordable repairs (no special tools required)
Sheffer Captivated Cushion Design