Introducing the Gripper Series 5000 from Zimmer Group
With its Gripper 5000 series of premium grippers, Zimmer Group introduces a completely new line of premium grippers that sets new standards in terms of performance and design in handling and automation technology. These truly universal grippers are available with either pneumatic or electric drive. The electric versions not only hold their own against existing premium pneumatic gripper solutions, but are actually superior in many ways.
At a Glance: The Zimmer 5000 Gripper Series
Up to 30 Million Cycles
up to 30% higher gripping forces and up to 10% higher static forces and torque load
allows you to install gripper fingers that are up to 10% longer than the best-known models in the market
Corrosion & rust free and has an additional DLC coating
Features & Benefits for the Pneumatic Gripper:
Up to 30% more gripping force
10% higher static forces and torques than the benchmark
Gripper fingers up to 10% longer than the benchmark
Gripper finger weight up to 15% higher than the benchmark
Sealed IP64 guide / IP67 protector version (with sealing air)
Protected against corrosion
Up to 30 Million cycles without maintenance
Features and Benefits for the Electric gripper:
All the same product advantages as the pneumatic gripper
Integrated position sensing
Selectable closing time and gripping force
Single-cable solution - - Plug & Play
Integrated ACM (Advanced Control Module)
On par with the pneumatic gripper across the board
Parallel and centric grippers of the 5000 series are very well equipped. Even the standard versions offer a number of characteristics that are unique in form and composition. For example, Zimmer engineers gave the grippers extremely robust, precision-made steel-in-steel prismatic guides as standard equipment. These all-steel guides overcome the drawbacks of overload-prone steel/aluminum guides. As a result, the 5000 series leaves premium grippers from other manufacturers far behind in terms of durability, flexural rigidity and wear resistance.
At a Glance: A Truly Universal Gripper for Every Task
Reduce the number of different grippers in use
Cut your design and stock-keeping costs to a minimum
Guaranteed process reliability, no matter what the environmental conditions
Protected against corrosion
Select either a pneumatic or electric drive to give you maximum flexibility when creating your design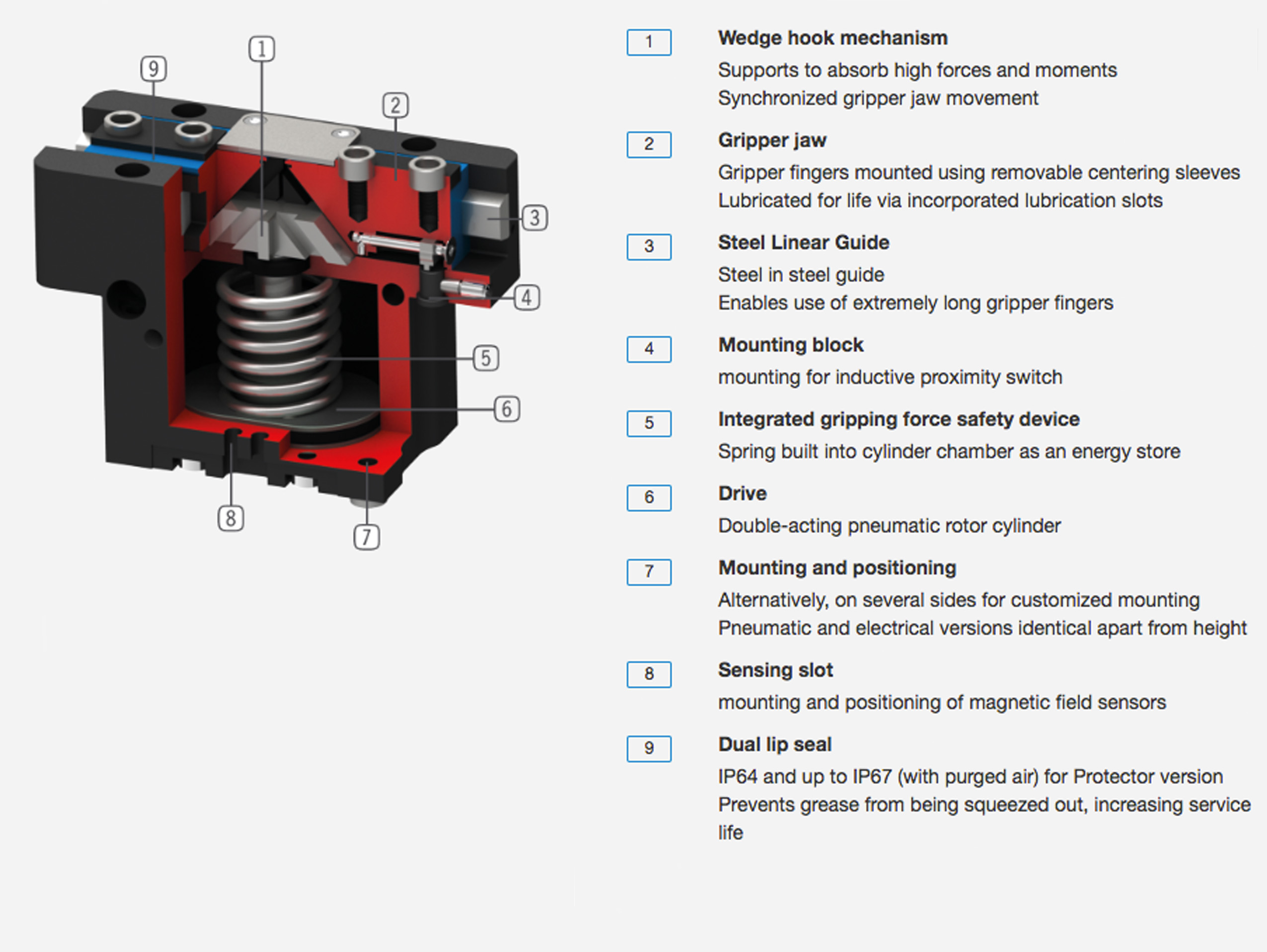 The guide system is rust free and has an additional DLC coating from the factory, making it so superior to conventional solutions that wear and a loss of precision are undetectable even after 30 million cycles.
Even the standard version of the series 5000 grippers has an impermeability rating of IP 64. The addition of a supplementary protector increases the protection rating to IP 67, which permits use of the grippers even under the most adverse conditions, including contact with corrosive or abrasive media like those found in machining or grinding centers.
Thanks to the DLC coating, the prism guides exhibit not only extreme wear resistance, but also low coefficients of friction. As a result, the grippers lose very little energy to friction and are correspondingly energy efficient.
Interested in the Zimmer Gripper 5000 series? Contact our Automation application specialists today to get started!
New control concept for ease of use
These new premium grippers are revolutionary in another way as well: An innovative control concept that makes operations extremely user-friendly and easy. The Advanced Control Module (ACM) is an integrated controller that actuates the powerful brushless DC motor, which gives the gripper its extraordinary gripping force and speed. But it also sets the stage for a user-centric operating philosophy. The GEP 5000 series of grippers has a self-explanatory, clearly organized operating panel on the housing that enables direct adjustment of the gripping force and gripping dynamics, while a series of control LEDs provides information on all major operating functions and settings.
Connection is as easy as operation. Grippers are connected with just one standard cable that handles connections to the 24 V power supply as well as to the controller itself. The gripper opens as soon as a signal exists at the control cable and closes when a second control signal is received.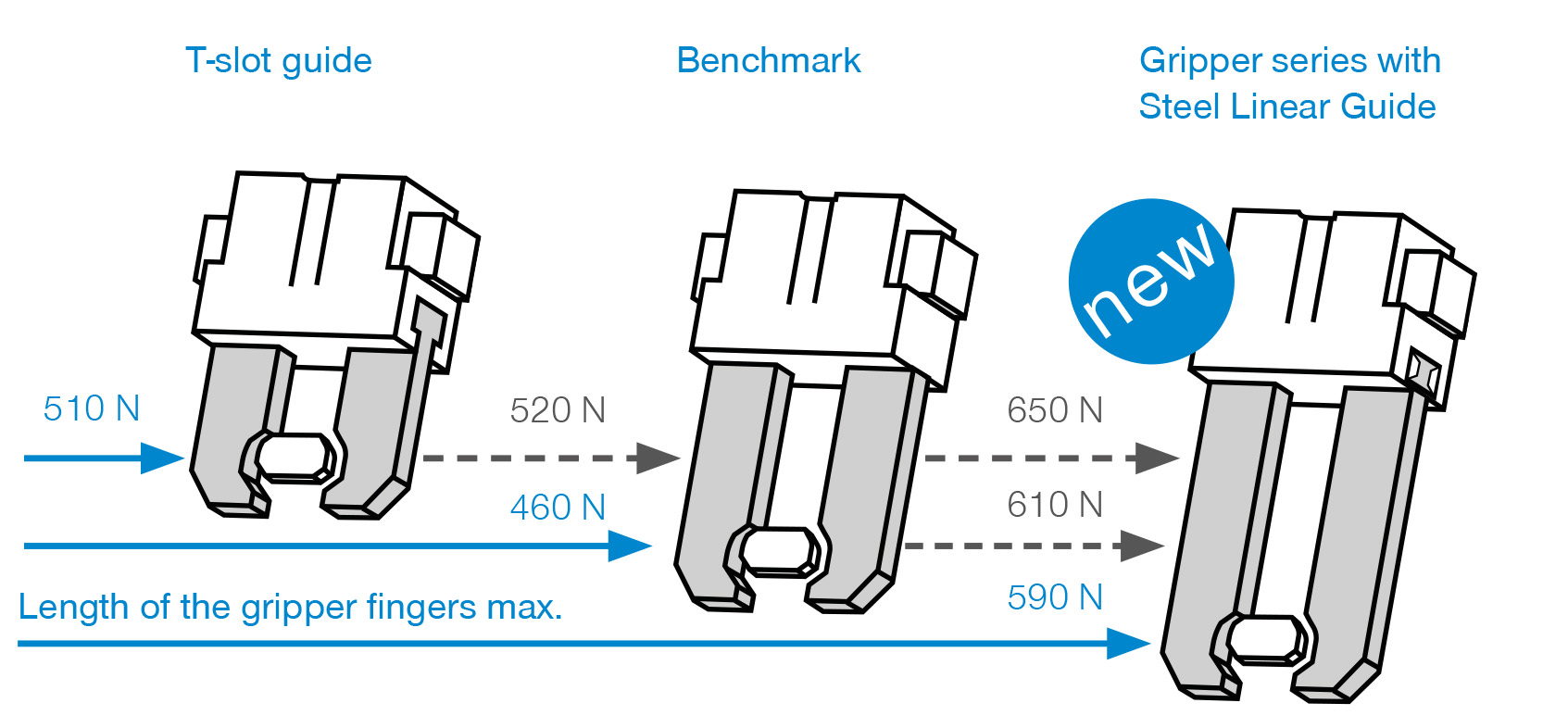 In contrast to grippers from other manufacturers, premium grippers from the Know-How Factory provide very high replacement accuracy of no more than 0.05 mm in standard configuration. This allows work to continue immediately after a replacement without re-teaching the gripper.
A Focus on the Details Put the Zimmer 5000 Series Ahead of Competition
The transverse sensor grooves mean you can change the piston position sensing quickly and easily, wherever the gripper is installed
Only one interference contour check is required, because a spacer compensates for the heights difference between the electric and pneumatic gripper
With additional pin holes underneath the cover plate for customer-specific attachments
With integrated lubrication reservoir
Do you expect a wide range of accessories, perfectly tailored to your gripper?
Our product range not only has quick-release fingers that fit every 5000 series gripper, allowing you to reduce setup times to a minimum
We also supply 2-position sensors so you can design highly compact sensors
Our multitude of tools and accessories means you get everything you need for your gripper from a single source
Hydrotech is the Authorized distributor and supplier for Zimmer Group products in Ohio & Kentucky.
Interested in the Zimmer Gripper 5000 series? Contact our Automation application specialists today to get started!