Introducing the Sun FLeX™ Series Solenoid Valves & Coils: Performance driven. Market priced.
Sun Hydraulics has just launched its new Sun FLeX™ family of competitively priced, high-performance electro-hydraulic products. These 16 completely new solenoid-operated cartridge valves and three new coils are the first products in the FLeX Series Solenoid Valves for both the mobile and industrial hydraulics markets.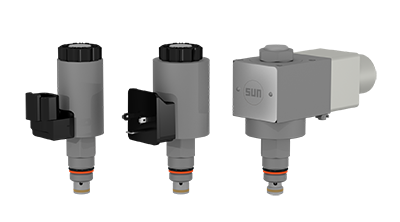 Designed to outperform comparable valves in the market, FLeX Series solenoid valves deliver what you're looking for in a range of solenoid valves:
Consistently better pressure drop in a virtually leak-proof poppet-style valve
Designed and tested to exceed 10-million-cycle operations
Zinc-nickel plating standard (1000-hour salt fog) on valve and coil
Coil options that include interchangeable low-power, high-power and hazardous location (explosion-proof) versions for expanded configuration flexibility.
Valve and coil package that delivers a perfect market-priced solution.
The FLeX Series valves use Sun's unique floating-style design, adding an extra layer of security in those harsh applications where torque and force can become excessive. FLeX Series products are available for order now and begin shipping in January 2018.
FLeX Performance Advantages
FLeX valves offer significant performance advantages over competitive valves. For example, the FLeX DTBF normally closed, direct-acting blocking poppet valve, like all the FLeX valves, was designed with advanced Computational Fluid Dynamics (CFD) simulation tools to optimize flow path geometries. It is coupled with a solenoid actuator that provides optimized actuation force at critical points in the valve stroke. The result, as shown in the performance curves, is the following:
Lower pressure differential across the valve at a given flow rate
Increased shift performance at higher pressures and flows.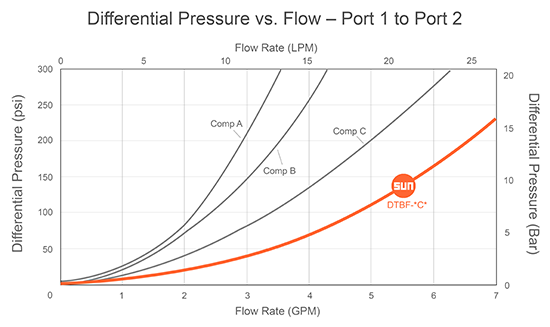 In practice, this means hydraulic systems utilizing the DTBF valves will see significant improvements in both efficiency and reliability while providing higher pressures and flow rates over competitors' products.
FLeX Phase 1 Products
The initial FLeX Series introduction includes the following:
Four Two-Way, Direct-Acting, Solenoid-Operated Directional Blocking Poppet Valves (Normally Closed and Normally Open)

DTAF pilot-capacity models leverage Sun's T-8A cavity design and can be used to pilot larger, higher-capacity valves. (Shown at left)
DTBF directional valves use the Sun T-162A cavity.
Both models can use any of the three coil types (740 Series low- and high-power and 747 Series explosion-proof) in the normally closed version.
Neither valve requires hydraulic pressure for operation.
Download the full data sheet (PDF): DTAF | DTBF
Eight Two-Way, Two-Stage Solenoid-Operated Directional Blocking Poppet Valves (Normally Closed and Normally Open)

DFB* 10-gpm (40 L/min) valves offer either 3000-psi/210-bar (DFBD, DFBE) or 5000-psi/350-bar (DFBF, DFBG) maximum operating pressure with improved pressure drop and reliable operation across their full operating range.
3000-psi valves use the 740 Series Low-Power Coils.
5000-psi valves use the 740 Series High-Power Coils.
Both use the 747 Series Hazardous Location (explosion-proof) Coils.
Download the full data sheet (PDF): DFB* Family
Two Normally Closed & Two Normally Open Pilot-Operated Electro-Proportional Throttle Valves

FPB* throttle normally closed (FPBF, FPBG) and normally open (FPBI, FPBJ) valves offer excellent command-versus-flow and pressure differential-versus-flow performance.
Compatible with Sun's new XMD mobile drivers for finely tuned control for demanding electro-hydraulics applications.
5000-psi (350-bar) valves use either the FLeX 740 Series high-power coils or the 747 Series explosion-proof coils as needed.
Download the full data sheet: FPB* Family
FLeX Series Standard & Explosion-Proof Coils

FLeX 740 Series Low- & High-Power Coils
740 Series comes in 12, 14, 24, and 28 Vdc and 115 and 230 Vac
DIN 43650 Form A (IP65/IP67 rated) and Deutsch DT04-2P (IP69 rated)
Low-power coil draws 17 W; high-power coil draws 25 W (at 20° C)
Transient voltage suppression (TVS) diode is optional for dc coils and standard for ac coils
Download the full data sheet: 740 Series Coils
FLeX 747 Series Hazardous Location (explosion-proof) Coils
747 Series offers ATEX, IECEx and CSA global certifications
Compatible with all FLeX Series valves
Certified for gas and dust environments (T4 compliant for gas, T135°C for dust)
CE compliant
30-W coils come in 12- and 24-Vdc and 115- and 230-Vac options
DC coils have integral TVS diode and offer 48-Vdc breakdown voltage
AC coils are internally rectified
90° and 180° connector options with either 1/2" NPT or M20 x 1.5 female thread for electrical connections
Download the full data sheet: 747 Series Coils
Hydrotech, Inc. is the Authorized Distributor and Supplier for Sun Hydraulics products in Ohio and Kentucky. To learn more about the Sun Hydraulics' Flex Solenoid Valve and Coil series, contact our product specialists today at 513-881-7000!