Essential Valve Systems (ES05) From AVENTICS

What's different about the AVENTICS ES05 valves?

Custom valve manifolds traditionally take several days or even weeks to get to the end customer. The ES05 requires fewer components and is simple to assemble, allowing Hydrotech, Inc., an Authorized AVENTICS supplier & distributor, to stock what is needed to quickly assemble and test exactly what you need - in as little as one business day! You heard that correctly, we can assemble and deliver the ES05 in one business day ensuring little downtime and seamless startup due to Hydrotech's large inventory of the product.
What are some of the features the AVENTICS ES05?

You can have up to 12 valves (up to 24 solenoids) on the same manifold. You can mix single and double solenoid valves, choose between inch or metric ports, standard 24VDC plus 12VDC or 110VAC, and choose connectivity options such as D-Sub, fieldbus, single wire or IO-Link. There's also inline ES05 valves.

All ES05 valves are constructed of light weight polymer, offer LED indication and fast switching times. ES05 manifolds are very flexible, with easy in-the-field modifications requiring only one tool (supplied with each manifold).
What are the flow requirements for the AVENTICS ES05?

AVENTICS ES05 valves feature flow rates up to 610 NL/min (0.61Cv), which covers the vast majority of typical industrial applications.
ES05 - Essential Valve Systems - advantages at a glance
Easy Installation
High Flexibility
Easy Configuration
High Quality
Low Inventory Investment
Inline and Manifolds
The new ES05 is the simple solution for basic pneumatics
ES05 is a valve system that has been designed especially for standard pneumatic applications and industrial automation. With flows up to 0.61 Cv, ES05 is sufficient to cover the majority of applications. Simple, flexible and efficient – without the bells and whistles.
Only 25 part numbers required for any inch or metric configuration, both inline valves and manifolds.
Easy assembly
Uniquely designed with only one torque, one tool required. The modular concept with low number of parts and simple assembly saves our customers time.
Thanks to the notched design of the components, mistakes at assembly are nearly impossible.
High flexibility
The ES05 allows individual configuration, the flexible electrical connectivity enables easy modification and extensions.
Modifications are possible at any time down to the last minute or even after installation.
Easy configuration
Through the engineering tools you can easily configure, assemble or order your desired products,
Including all documentation free-of-charge.
High quality
You can benefit from cost focused contemporary products in technical excellence made from extensive wealth of experience.
Lower inventory
Small number of parts required to build vast variations of valve systems reduces inventory investment.
Hydrotech is the authorized distributor and supplier for AVENTICS pneumatic products in Ohio & Kentucky.
AVENTICS ES05 Specs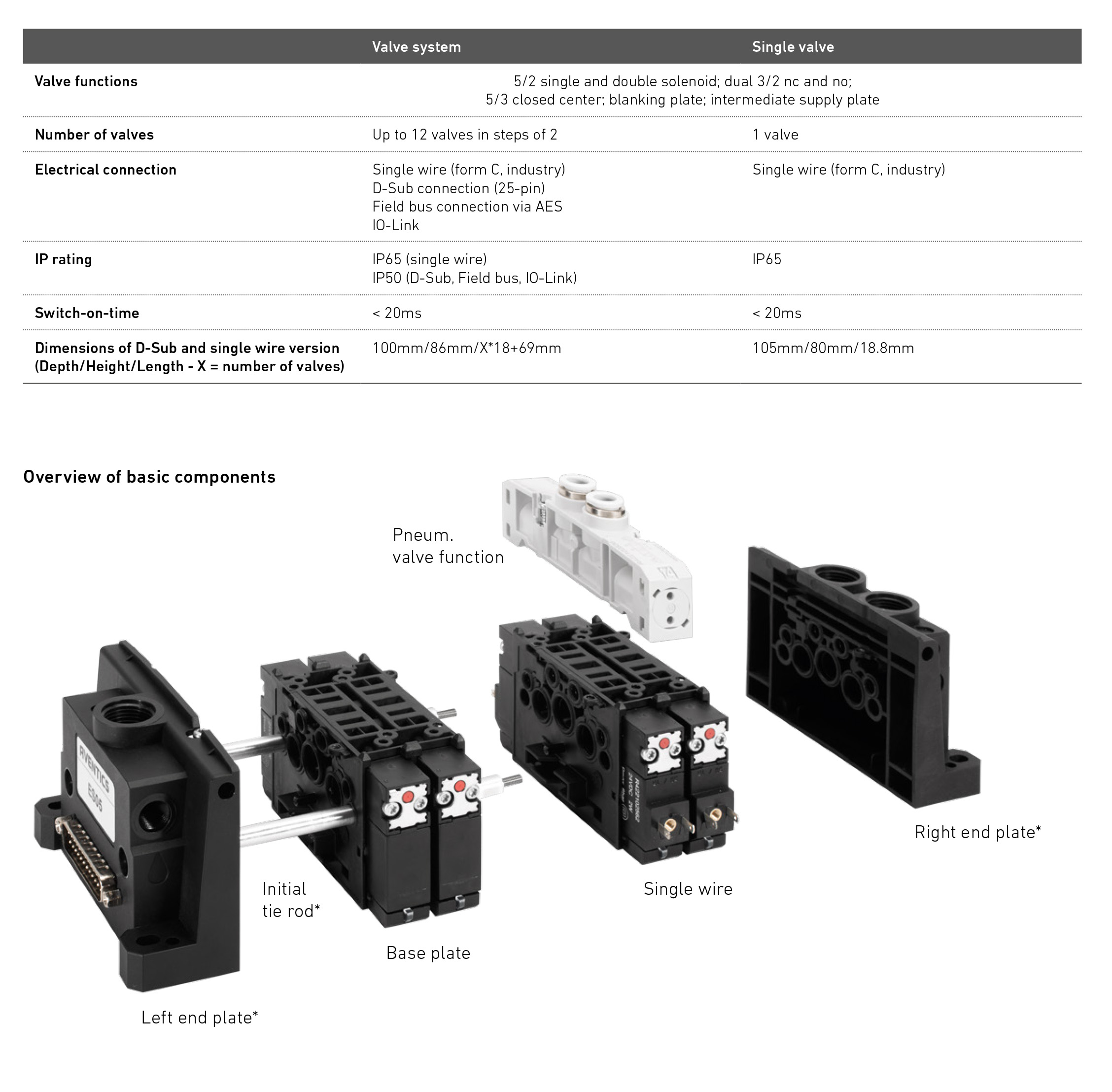 AVENTICS ES05 Application Photo