Sun Hydraulics' Integrated Packages Deliver Efficiency and Save Money
Sure, your hydraulic solution that utilizes line-mounted components and a maze of hydraulic hoses works...but is it the most efficient solution you can offer? Is it really providing cost-savings for your company or your customer?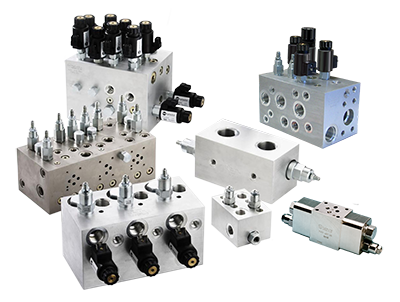 What is a Sun Hydraulics Integrated Package?
Sun Hydraulics Integrated Packages & Custom Manifolds can do just that. Widely considered as the industry-leader, Sun Hydraulics is capable of providing an integrated package that meets all application requirements, outperforms the competition, provides cost savings through energy efficiency, and delivers it all in a compact space-saving solution.
Not only do their solutions outperform the industry standard, Sun Hydraulics has made it super simple to order standard & custom integrated packages.
Three Easy Ways to Start Your Project Today
Standard Integrated Packages
Based on a wide-range of cartridges and compatible manifolds, you can select your own Standard Integrated Package. With over 900 cartridge models and over 2,400 manifolds, you can browse Sun Hydraulics' vast list of standard configured solutions or create your own standard solution simply by selecting the manifolds & cartridges and then clicking on "Build an Assembly".
Sun Hydraulics' QuickDesign Software
We wrote about Sun Hydraulics' QuickDesign software solution here. If Sun's various standard integrated packages are not the right fit for your application, they've developed a free web-based design tool called QuickDesign that gives the user the capability to create their own three-axis custom design solution. After you provide the necessary information, your solution is designed automatically and sent directly to your inbox usually within 10 minutes. This allows you to quickly make the transition from idea, concept, to design with shipping that can be just as quick due to Sun offering two-week standard shipping.
Sun Hydraulics' SunDesign custom services
Sun Hydraulics also has a manifold engineering design service that utilizes five-axis design and leverages compound angle drilling delivering an extremely compact package no matter what the application is.
With Sun's products and expertise, they can offer larger, shorter, and more direct flow paths that result in reduced pressure drop. You cannot go wrong with any of the above design options and you'll offer a tangible, quantitative solution for your company or customer with Sun Hydraulics' integrated packages because they reduce the use of machine real estate by 50% in manifold volume. These packages are also very easily integrated into your machine by offering flexible placement of cartridges and ports.
If you'd like to start reducing energy costs today, saving space, and saving money...please contact one of our application engineers to begin your project.
Hydrotech, Inc. is the Authorized Distributor for Sun Hydraulics in Ohio and Kentucky. Our team of engineers have years of mobile, industrial, and application expertise to help you develop the most efficient solution.