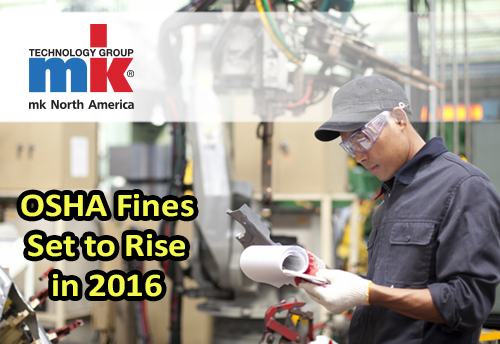 OSHA Increasing Fines Up to 80%
In 1990 OSHA set the maximum civil penalties for violation of its workplace safety guidelines. Since then they have not been updated or adjusted, but not for very long. OSHA is going to be updating these fines to equal current inflation levels; the result could be an increase of these fines up to 80%.
Starting November 2015, Congress required federal agencies to adjust their fines for inflation and on August 1st, 2016 the increase has been in effect, and will be updated every year, going forward.
There are particular industries that are going to be effect the most. Employers who are required to provide "Machine Safeguarding", to protect the operator and other employees in the machine area from hazards such as those created by point of operation, ingoing nip points, rotating parts, flying chips and sparks are required to provide machine guarding.
The Increase
Below is a table showing the old penalties and the new equivalent penalties side by side. The new maximum fines have taken effect since August 1st, 2016.
| | | |
| --- | --- | --- |
| Type of Violation | Old Maximum Penalty | Penalty After August 1st |
| Serious, other-than-serious | $7,000 per violation | $12,471 per violation |
| Failure to abate | $7,000 per violation | $12,471 per violation |
| Repeated or willful | $70,000 per violation | $124,709 per violation |

The Solution for Machine Safeguarding
Hydrotech, Inc. is Ohio and Kentucky's exclusive distributor/solutions partner for MK North America. Hydrotech, Inc. works exclusively with its customers to provide reliable, custom engineered solutions for machine safeguarding with MK North America's extruded aluminum framing.
These solutions are especially well suited for stationary machines such as power presses, large milling machines, robotic devices, and others. Perimeter guards or protective fencing can easily be created using MK Aluminum Extrusions, keeping workers out of harms way while operating or being around the machine.
If you are interested in learning more about how Hydrotech, Inc. can help you with your Machine Safeguarding solutions please contact them at (513) 881-7000 or email reply@hydrotech.com.