Recirculating Pallet Conveyor from MK Technology Group
The SPU 2040 is an accumulating pallet recirculation system for cost-effective interlinking, feeding, buffering, positioning and separation of workpieces in the tightest of spaces with automatic workpiece carrier recirculation. The system's sturdiness and wide range of variants makes it suitable for virtually all automation and material flow applications.
The SPU 2040 recirculating pallet conveyor systems are ideal any application where two machines need to be combined. Thanks to impressive accumulating capability, this single-wide version of the SPU-2040 system is ideally suited for use in buffering areas that compensate for different cycle times up and downstream. The SPU-2040 is particularly useful with workpieces and parts that have a footprint within 250 mm x 350 mm.
The SPU-2040 is an accumulating pallet recirculating system which offers feeding, buffering, positioning and separating of workpieces in the smallest possible space. The robustness and the variety of the various models allows it to be used in practically all areas of automation and material flow.
WATCH: See MK Conveyor's Recirculating Pallet Conveyor in Actiion
Automatic recirculation of pallets
Workpieces and parts are loaded on the conveyor pallet as required at the in-feed. After all of the required work is preformed and the workpieces and parts are removed from the pallets; the pallets then travel, with the chain; under the conveyor and back to the in-feed station. A second conveyor and transfer units for returning the pallets are no longer required. There is also no longer the need for additional manual or loading of the pallets into the system.
MOST USEFUL FOR:
Assembly
Sorting
Material Handling
Testing
Advantages of the SPU-2040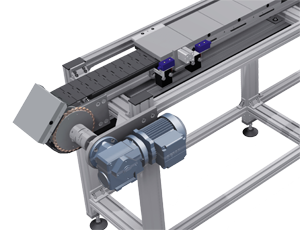 Process safe feeding, buffering, positioning and separation
Compact design with space-savings recirculation of the pallet below the working level
Buffer capacity compensates for the varying cycle times within the production line
Flexibility as the result of the modular design and variety of pallets
Loading up to 660 lbs. (single) and 990 lbs. (dual); depending on speed and length
Low maintenance design
Hydrotech is the authorized integrator or MK Conveyors and other automation solutions. Want more info? Contact our engineers today at 513-881-7000!