Eliminate Coolant with Minimal Quantity Lubrication (MQL) from DropsA

WATCH: Minimal Quantity Lubrication from DropsA
WATCH: Eliminate Coolant with DropsA MQL Testimonial
The aim of near dry machining is to replace traditional coolant and pure oil flood systems in a machining environment with an accurately controlled compressed air stream that carries minimal quantities of oil lubrication in an "aerosol" format to the cutting surface. This insures lubrication of the cutting surface and allows for high performance machining.
Lubricating Aerosol is transported to the cutting surface in two ways:
External Lubrication: oil is transported via an external nozzle to the cutting surface placed near the tool and workpiece.
Internal or "through-the-tool" Lubrication: oil is transported through internal lubrication holes in the cutting tool.
The Benefit of DropsA Near-Dry Machining Technology
Reduce work cycle times, generally by 25% to 80%.
Increase tool life thus increasing time between tool change and gain productivity.
Better surface finish and tolerances can be achieved.
Eliminate coolant - make your plant more environmentally friendly.
Parts finish machining with a fine rust inhibiting oil coating - not coolant contamination.
Water and oil consumption drastically reduced.
Our technology works on diverse materials and machining operations.
Eliminate capital cost of high pressure thru-tool coolant system on new systems.
Side-by-side Implementation parallel to existing coolant system gives you peace of mind and maximum flexibility.
MKD DUAL Uses Patented Auto-adaptive technology eliminating complex and continual adjustment between tool change.
No complicated electronic control systems needed thanks to the patented Auto-adaptive system.
The Dropsa MQL Application Consultation
Implementation Process
Customer selects Manufacturing Part/Process to convert to MQL
Analyze current Manufacturing Process
Identify tooling and machine weak points and potential improvement
Design MQL compatible tooling and coatings to optimize application results.
Monitor tool life for improvement versus traditional coolant systems
Follow up MQL training on client's machine operators to render customer fully autonomous in present and future MQL applications and tooling design
Two Product Solutions to Cover Any Application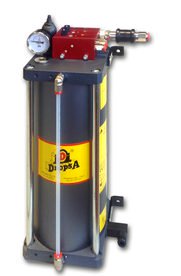 MiQuel: Air/Oil near dry machining lubrication system with pneumatic control
Key features:
Constant delivery even if the pressure change in input and output
Reservoir capacity: 1L - 3L
Delivery: variable, 0- 2 cc/ min
Air and Oil delivery regulation for each single element
Efficient and complete MiQueL is designed for near dry machining lubrication for machine tools, machine for cut and fold sheet metal, steel mills, it can be used on all the systems that need a calibrate lubrication and a functions control. It is possible to insert till 8 elements connected among themselves that, anytime, can be excluded or activated singularly, through integrated electro-valve.
Useful and easy to use for each single element it is possible to control individually oil and air delivery. Clean: The system includes a device that, completed the lubrication cycle, guarantees that the lubricant does not drop.
WATCH: The Miquel from DropsA
The MKD: The new dimension for internal Minimal Quantity Lubrication in dry-working applications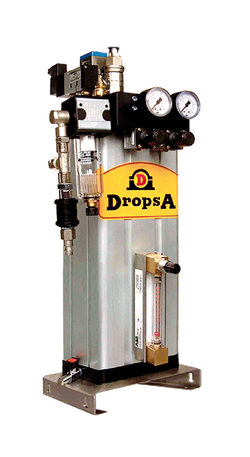 Key features:
Air supply: Max 6 Bar (88.2 psi)
Air inlet pipe: Ø6 ÷ 10 mm (0.23 ÷ 0.4 in.)
Aerosol Outlet: Ø10 ÷ 16 mm (0.4 ÷ 0.6 in.)
Reservoir Capacity: 1,8 Liters (0,40 galls)
Electro-pneumatic ball valve input voltage: 24VDC 200mA
Lubricant: Vegetable oil
Oil Quantity: 0,5-50* ml / h
Output/air consumption: 90-225 * Nl / min
Working air pressure: 4-8 bar
Dimensions: 600x180x180
Outputs number: 1-4
The MKD-Dual minimal lubrication system represents the first step towards the world of near-dry machining by using the leading air-oil aerosol technology.
Designed for internal lubrication processes, this exclusive unit can generate a thin film of aerosol mixture which is brought directly to the tool cutting point by using the existing fluid distribution channels found on most machines.
The auto-regulation is one of the key characteristics of MKD-Dual you will not find on other aerosol generators for near dry machining.
Dual Venturi based aerosol generator will automatically compensate when going from one size of tool to another avoiding the deterioration of the aerosol quality that is found when varying the linear velocity of air through the Venturi.
MKD-Dual therefore optimizes the process through an automatic adjustment of the micro-oil mist depending on the air flow - this means best aerosol quality throughout the different sizes of cutting tool and a considerable time saving on initial setup (no complex regulation).
MKD-Dual has been designed mainly for mid-high range applications - this sophisticated technology of generating an ultra-thin aerosol with sub-micron particle size allows the mixture to flow through the spindle during rotation at high speeds minimizing the effects of centrifugal force on the aerosol avoiding deterioration. The Dual unit is provided with two outlets which can be supplied with electro-pneumatically controlled ball valves.
Interested in learning more about minimal quantity lubrication? Contact our specialists today!