IoT Gateway – Get ready for Industry 4.0!
Fast and flexible connection of machines to Industry 4.0

Network new and existing machines cost efficiently and optimize production processes and product quality: The IoT Gateway makes it easy to connect to Industry 4.0 environments without intervening in the automation logic. The precisely coordinated combination of control hardware and software for implementing IT applications collects sensor and process data, transmits it to MES, cloud applications or local machine state monitoring systems, for example, and enables process data analysis.
Use Case: IoT Gateway and Production Performance Manager
At the Bosch plant in Homburg, engineers have used the IoT Gateway to network a test facility for hydraulic valves from 2007. Thanks to new sensors that monitor the quality of the oil used, it is now possible to determine the time of the required oil change much more accurately than before. This saves time, money and protects the environment.
In addition to the IoT Gateway, Bosch also provides the software needed to analyze, format and display data in the Bosch IoT Cloud, for example. For the test facilities in Homburg, the IoT Gateway sends the sensor data to a PC that has been installed with standard Bosch software modules.
The Production Performance Manager (PPM) from Bosch Software Innovations is a production information and evaluation system. It records production and machine data from the networked test facility in close to real time. The module merges the information into a single visualization and forwards specified events to defined persons. Using the PPM, employees can intervene before critical situations possibly leading to system downtime arise.
Description
Networking of existing machines (test facilities) and sensory monitoring of the test medium and the formatting units
Automated monitoring of the ISO purity classes of the test medium (customer request) - Previously a manual process
Continuous status monitoring of formatting units (filters) and automated alerts and ordering of maintenance - previously a manual process
Result
ROI < 1.5 years
Maintenance costs -25%
OEE +5%
Complexity for manual testing -20%
Boost productivity and efficiency
The modular software concept of the IoT Gateway is based on Linux, Java apps and open interfaces. The IoT Gateway makes your machine and process data more transparent. Real-time monitoring of process data such as temperature, pressure, vibration, power consumption, or other parameters ensure that your production is consistently of high quality. Rule-based analysis of specific information simplifies predictive and plannable maintenance of your plants and significantly increases machine availability. Monitoring of energy-related data makes it possible to shut down plant components and thereby optimize the energy balance.
Plug-and-run in three steps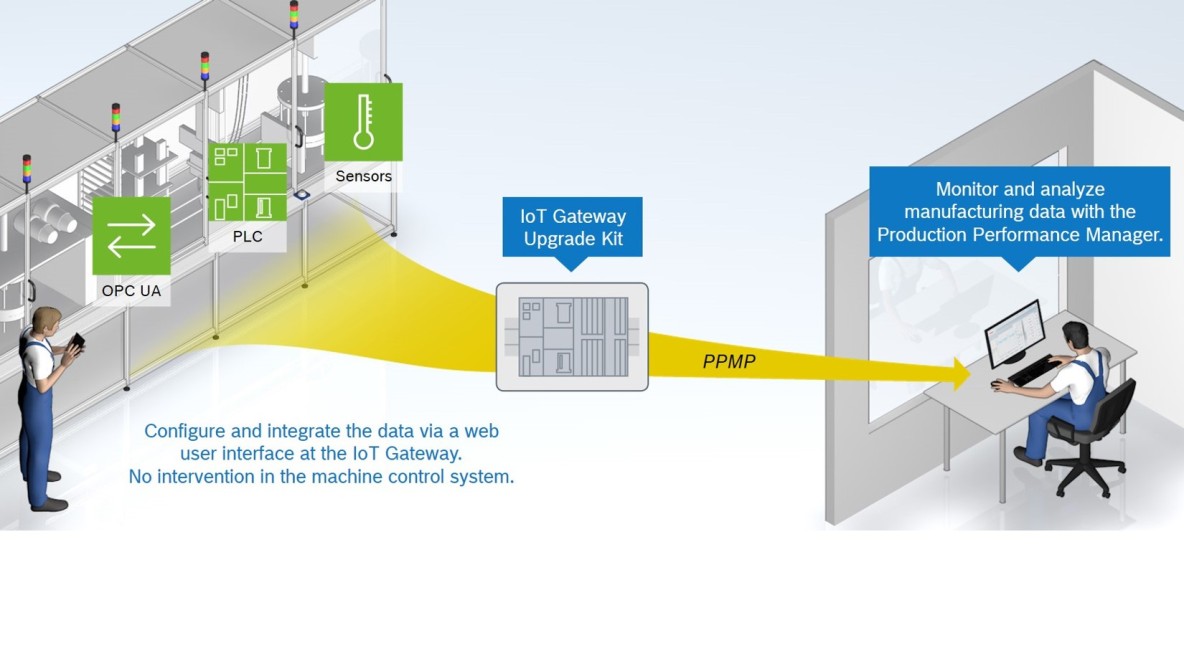 You can configure and commission the IoT Gateway quickly, conveniently and completely free of programming via the integrated web interface – without any changes to existing machine programs: The first step is to select and configure the sensors in the devices app. The supported range of sensors covers sensors with digital and analog interfaces to Bluetooth low energy, USB and RFID.
In the second step, the data is preprocessed in the processing app and, in the third step, it is sent to higher-level systems. These can be different IoT services for data collection and analysis, such as the Production Performance Manager from Bosch Software Innovations or the Oracle IoT cloud.
Modularity for individual requirements
For quick commissioning, different Java apps for typical application scenarios are provided with the IoT Gateway. The open, modular design allows you to flexibly adapt and expand the IoT Gateway to specific requirements. This is done with the simple expansion of Java apps for new sensors or for the specific connection of new IT solutions. These are provided either directly from Bosch Rexroth, our IT partners or the user.
Scalable and robust control hardware
The IoT Gateway software is run on the IndraControl XM embedded control hardware from Rexroth. It meets high real-time requirements and can be expanded flexibly into a complete automation system with the scalable IndraControl S20 I/O system. The IoT Gateway hardware therefore meets the industrial requirements for an i4.0 upgrade of existing systems.
Future-proof with open software architecture
The IoT Gateway architecture is basically built on open software standards. Open-source Linux is used as the operating system. The integrated Java virtual machine enables efficient deployment of the Java applications and corresponding cloud services via the OSGi framework.
IoT Gateway and Open Core Engineering
Software Development Kit (SDK) - Open future-oriented software architecture
Full documentation
Comfortable integration of the libraries into the respective development environment
Complete access to comprehensive functions
Easy start by provided OSGi bundle templates
Comprehensive application examples for Open Core Engineering
The IoT Gateway is available as a stand-alone solution and as part of a Starter Kit.
Watch: Get Started with Bosch Rexroth IoT Gateway in 5-Minutes
The Starter Kit contains in addition to the IoT Gateway the Production Performance Manager from Bosch Software Innovations. The software merges the collected information into one visualization and forwards specified events to defined persons.
With the Starter Kit, you can find out almost immediately how ready your production facility is for Industry 4.0. The combination of expert knowledge, software, and hardware provides you with a simple and cost-efficient way of networking your machinery and systems. You can then use the new information you gain to improve your production processes and product quality.
We will work with you to develop an initial custom use case, integrate the relevant machinery into the software solution, and identify potential for optimization so as to improve your production.
Additionally, we will provide you with the IoT Gateway hardware element in order to ensure a seamless collection and monitoring of data. We will support you in the installation of the hardware and software at a commonly defined machine. You will also learn how to integrate, digitally visualize, and optimize more production machinery, systems, and lines yourself.