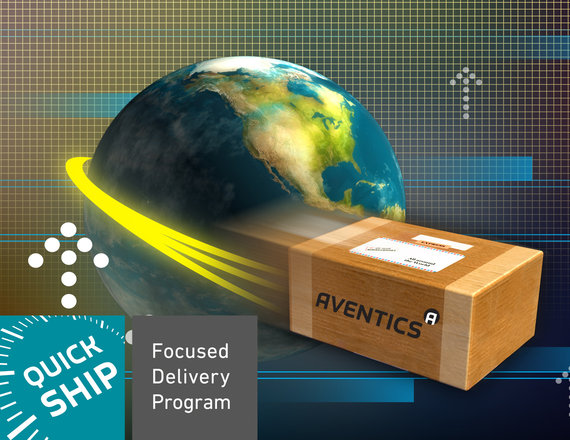 Aventics Introduces Focused Delivery Program: Quick Ship
In 2014 Bosch Rexroth sold off their Pneumatic business. A new standalone company has been created from the new ownership of the former Pneumatics business unit of Bosch Rexroth. The former subsidiary of Bosch Rexroth has been operating as a standalone company since the beginning of 2014, whose headquarters is located in Lexington, KY.
Bosch Rexroth GoTo
Bosch Rexroth in 2010 started a focused delivery program on the most in-demand electric drives and control, hydraulics, linear motion and aluminum structural framing products.
Aventics Quick Ship
Now Aventics has developed their very own Focused delivery program; Quick Ship. Quick Ship gives Aventics customers wide range access/selection of their most popular pneumatic products with fast, reliable lead times, that beat the lead times of industry/market standards. The results of the Quick Ship focused delivery program are saved delivery time, standardized products, and reduced downtime.
Aventics Quick Ship Focused Delivery Program Product Categories:
Air Preparation
Filters
Regulators
Lubricators
Pneumatic Valves
Directional Control
Electro-Pneumatic
Pressure Control
Pneumatic & Hydraulic Cylinders
Profile
Tie Rod
Rod-less & Mini
NFPA Air & Hydraulic
Pneumatic Accessories
Fittings
Tubing
Flow Controls
Pressure switches
On top of Aventics' Quick Ship focused delivery program, save design time using their online calculation tools for sizing, to efficiently size your components including custom valve manifolds, cylinders and air prep assemblies – save time and reduce errors, get a part number and CAD drawings quickly.
Hydrotech is the Exclusive Aventics Distributor for Ohio and Kentucky.