About Hydrotech

Products

Services

Industries

Media

Divisions
NL
Hydrotech Service & Repair Group
Thursday, May 24, 2012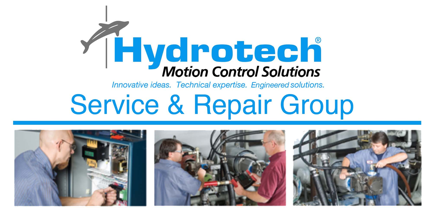 Hydrotech's Capabilities…
The Hydrotech Repair Group combines decades of experience to provide complete hydraulic repair service to our customers. For hydraulic cylinder repair and other service activities, our technicians use cutting-edge diagnostic equipment to evaluate performance characteristics after the repair and recommend additional solutions. Our factory trained service technicians have countless years of experience repairing and evaluating hydraulic equipment and continually broaden their expertise by attending specific training programs.
With the manufacturing industry seeing a powerful spike in production, the need for prompt and efficient service is seeing similar growth. Hydrotech has dedicated multiple resources and manpower to meet this demand. Some of Hydrotech's Service & Repair capabilities are as follows:
Factory Trained Service Technicians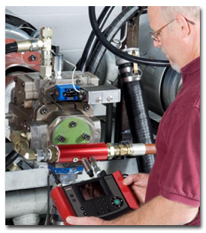 Most of our technicians have spent their entire careers servicing fluid power components and systems. As technology changes, Hydrotech technicians continually broaden their expertise by attending manufacturer's training programs.
Providing Long-Term Solutions
Our technicians work to diagnose the source of the problem and recommend solutions to prevent future component and system failures and maximize equipment productivity.
Prompt Communication
From teardown to inspection and all the way through service completion, the Hydrotech Service & Repair Group is dedicated to communicating the status of your service order and seeking your input. In result of our strict standards, you can always rely on Hydrotech to do the job properly the first time.
Attention to Detail
Hydrotech Service & Repair completes a detailed failure analysis on each unit we service. Customers are informed of probable causes, potential solutions and available options and can then decide whether the best decision involves hydraulic repair or replacement. Our attention to detail saves your company money now, and in the future.
Customers Rely on Us…
One of Hydrotech's major repair customers, Mubea, located in Florence, KY has been seeing significant business growth and has a need for Hydrotech to be readily available for service calls. Downtime on major manufacturing machines can result in costly losses. Mubea is a family owned company with a high degree of flexibility and quick decision-making capability. Mubea has greater than 5,000 employees in 30 offices and global production facilities equipped with cutting-edge technology. In the European, North American, and Asian markets, Mubea supplies products to the most reputable OEM and TIER 1 automobile manufacturers such as Audi, BMW, Fiat, Ford, GM, Honda, Hyundai, Jaguar, Mitsubishi, Renault, Suzuki, Toyota, VW and several others.
Mubea was struggling with a specific cylinder problem and had recently solicited help from other service & repair companies. Unfortunately for them, those companies could not provide a long-term solution to the problem without replacing the cylinder completely. Replacing the cylinder completely would not have necessarily been a poor choice, but it would cause them to shut the machine down completely for a significant amount of time. For a major manufacture like Mubea, extended periods of machine downtime are extremely costly. Hydrotech offered the appropriate solution and repaired the cylinder without causing a long period of downtime. This is where Hydrotech differentiates itself from other service & repair companies. We have the experience and commitment to involve ourselves with the application of the product being serviced, and find the correct answer that allows the customer to continue business as usual.
Mubea has a very wide range of products, and deals mostly within the automotive industry. They maintain high internal production standards to ensure an exceptional quality level and economic efficiency through innovative and rigorous production methods, starting with the cold rolling of their own material to very tight tolerances. Having such an internal production standard that relies on accountability, Mubea needed a service & repair company that was just as dedicated to quality as they were, and that is where Hydrotech differentiated itself from competitors. We've set up a "service schedule" with them where we have one of our technicians come down every Thursday to pick-up or drop-off parts. Hydrotech is also ISO certified and has a quality team committed to excellence.
Our Service Department is here to help and will always give you the best option to continue growing your business. Contact Hydrotech at 513-881-7000 if you're having any service & repair needs.

Innovative ideas. Technical expertise. Engineered solutions.
Products/Solutions
Select one or more search criteria and/or enter text.